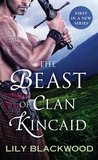 THE BEAST OF CLAN KINCAID by Lily Blackwood
My rating: 4 of 5 stars
Love and revenge in 14th century Scotland! THE BEAST OF CLAN KINCAID is a solid start to Lily Blackwood's new Highlander romance series. The opening scene really grabbed me. Niall, a laird's young son, violently robbed of his birthright. Fast-forward 17 years, and Niall returns to seek his revenge against the clan responsible. There's one snag in his plan though – Elspeth, the tempting and innocent daughter of the enemy he's sworn to destroy. This was an enjoyable and fast-paced book with well-drawn characters. It was easy to root for both Niall and Elspeth, both separately and together. Good people, tragic circumstances. I especially loved the surprise twist at the end. Looking forward to the next book.
Disclosure: I received a copy of this book from the publisher through NetGalley in exchange for an honest review.