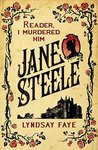 JANE STEELE by Lyndsay Faye
My rating: 5 of 5 stars
Reader, I murdered him. With a tagline like that, how could I resist? I absolutely loved this book! JANE STEELE is a dark retelling of the Brontë classic, JANE EYRE. Granted, the original was already pretty dark, but JANE STEELE takes it to a whole new level.
Like me, Jane Steele is a huge fan of Jane Eyre, and in many ways her life mirrors that of her favorite character. Only, Miss Steele is a wee bit of a sociopath (hence the tagline), but in the best way possible! When she sees an injustice, she handles it in her own vigilante way.
The story follows Jane from her childhood days at Highgate House, to a dismal boarding school, to the rough streets of Victorian London, and eventually to her return to Highgate House, where Jane has come back to collect her due. Did I mention the body count along the way?
JANE STEELE is a beautifully written book, clever and captivating, with a nice blend of mystery, historical fiction, Gothic romance, suspense, and adventure. Highly recommended.
Disclosure: I received a copy of this book from the publisher through Edelweiss in exchange for an honest review.